CX85D SR
Zaprojektowana z myślą o użytkowniku, średniej wielkości koparka CASE CX85D SR skraca czas cyklu pracy, zwiększaja moc kopania i oszczędza paliwo dzięki pierwszemu w swojej klasie rozwiązaniu Stage V. Konstrukcja o minimalnym promieniu obrotu jest idealna do pracy w bardziej ograniczonych obszarach, takich jak wzdłuż budynków i na poboczach dróg, z możliwością wyboru wysięgnika "offsetowego", aby jeszcze bardziej zwiększyć swoją wszechstronność w wąskich przestrzeniach. Duża kabina koparki CX85D SR zapewnia operatorom taką samą przestronność i komfort, jak w przypadku większych koparek CASE Short Radius.

POBIERZ
Pobierz broszury
Udostępnij lub pobierz broszurę, aby uzyskać dodatkowe informacje.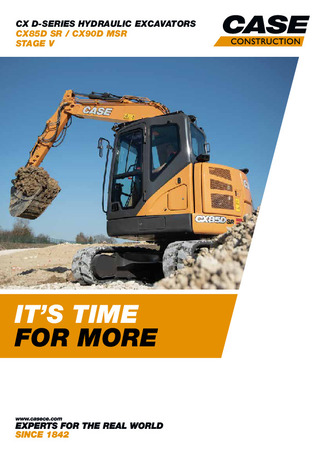 Midi-koparki Seria D
1.35MB
Masa robocza ze standardową łyżką
7930 / 8490 kg (ramię krótkie / długie)

GLÓWNE CECHY
Standardowe wyposażenie
Stage V, Yanmar engine, 50.7 kW, 3318 cc
Water-cooled, 4-stroke diesel, 4-cylinders in line
High capacity fuel tank: 120 l
Auto-idle and one-touch idle
Idle shutdown system
Cooled Exhaust Gas Recirculation (CEGR)
Electronic fuel injection
High pressure common rail system
Auto-engine warm up
Emergency stop
Glow-plug pre-heat
EPF (Engine Protection Feature)
Dual-stage fuel filtration with water separator message in cabin
Fuel final safety filter
Dual element air filter
Remote oil filter
Green plug oil drain
24-Volt system
Battery disconnect switch
Fuel cooler
Fuel filter restriction indicator
Fuel shut-off valve
Two-speed hydrostatic transmission, with variable displacement axial piston motor and automatic travel speed shifting
Mechanical disc brakes in oil bath
Final drive with planetary gear reduction in oil bath
Pressurized cab
ROPS & FOPS Level 1
Tempered safety glass for all windows
One-touch lock front window
Windshield wiper & washer
Multifunction LED color monitor (180 mm)
Rear view camera
Side view camera
Automatic climate control
Fully adjustable mechanical suspension seat
Interior dome light
Sliding seat – 90 mm
Adjustable armrests
Sliding cockpit 180 mm
Cup holder
1 working light on boom
1 working light on cab top
1 on the left side of the UC
Anti-theft system (start code system)
Rubber floormat
12-volt electric socket
24-volt cigarette lighter
Roof window w/sunshade
Open-center system, two variable displacement axial piston pumps with regulating system for fast cycles and simultaneous movements + 1 independent gear pump for dozer blade operations
Attachment cushion control
3 operating modes (auto, heavy, speed priority)
Auto power boost
450 mm steel tracks
450 mm dozer blade
4-lashing points for easy transport
Step on undercarriage for safe cab access
CX85D, CX90D 1.69 m arm
CX85D OFFSET 1.75 m arm
Heavy duty bucket linkage

GLÓWNE CECHY
Wyposażenie opcjonalne
FOPS Level 2
Arm 2.19 m (mono boom)
Arm 2.10 m (offset boom)
Front stone guard (opg level 2)
Front mesh guard
HD type w/ lifting eye, mandatory with HBCV
450 mm rubber tracks
450 mm rubber link tracks
600 mm steel tracks
Electric refuel pump
Radio fm/am
Air-Suspension seat
Air-Suspension seat w/ tiltable and heater function
CASE maximum view monitor incl. 3 cameras (rear, right and left)
Boom and arm safety valve & warning device for safe lifting operations
Bucket or clamshell circuit
Low flow - electrical proportional control
Hammer circuit hydraulic control (Mono boom - pedal control)
Hammer circuit electrical proportional control (Mono boom - joystick control)
Hammer/high flow circuit electrical proportional control (Mono boom - bi directional oil flow)
Hammer circuit hydraulic control (Offset boom - pedal control)
Hammer circuit electrical proportional control (Offset boom - joystick control)
Double act circuit electrical proportional control (Offset boom - bi directional oil flow)
Engine/hyd. Oil sampling port
Quick coupler provision
Site Watch Telematics
Spark Arrester system
Kompatybilny osprzęt
Sprzęt CASE to platforma - osprzęt dodatkowy decyduje o tym, ile pracy wykonacz i jak opłacalna jest Twoja maszyna.
SPECYFIKACJE
Porównaj specyfikacje
ENGINE

Model

Emission level

Type

Displacement

Bore x stroke

Rated net power ISO 9249

Maximum torque ISO 9249

HYDRAULIC SYSTEM

SWING

FILTERS

ELECTRICAL SYSTEM

UNDERCARRIAGE

SOUND LEVEL

CIRCUIT AND COMPONENT CAPACITIES