B-Series Compact Track Loaders
All-new CASE B Series compact track loaders (CTLs) and skid steers offer a completely re-imagined operator interface and environment to simplify operation and put more power and control into the hands of the operator — including an all-new 8-inch LCD multi-function display and simple electro-hydraulic controls. Match that with industry-leading visibility, productivity-enhancing horsepower and torque, extreme attachment versatility, and lift geometries and size classes to meet every demand — and CASE B Series CTLs and skid steers have the strength and performance to handle your toughest jobs.

DOWNLOADS
Download Brochures
Share or download a brochure for additional information.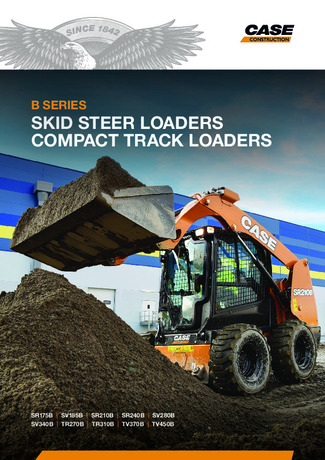 B-Series Compact Track Loaders
3.48MB
TESTIMONIAL
Hear why customers trust CASE
Why B-Series compact track loaders can be critical on your jobsites?
Discover more in this short video!
Explore the Features
RADIAL AND VERTICAL BOOM

To deliver CASE specific performance and productivity to a wide range of customers, CASE Construction skid steer and compact track loader lineup is composed by ten models, featuring both radial and vertical lifting power. Six models of skid steer loaders, of which three with radial kinematic (SR) and three with vertical one (SV), as well as four compact track loaders, of which two with radial lift (TR) and two vertical models (TV).

STAGE V ENGINES

CASE Skid Steer and Compact Track Loaders are equipped with state-of-the-art Stage V engines featuring the High Pressure Common Rail (HPCR) technology, which regulates fuel pressure and injection timing ensuring extremely high injection precision in all engine operating conditions. This results in more torque output and allows to get more useful power from every drop of fuel.

Cooled Exhaust Gas Recirculation (CEGR) process is controlled electronically to achieve greater performance and fuel efficiency, as well as even greater reliability.
Diesel Particulate Filter (DPF) physically traps particulate matter from the engine exhaust. Electronic controls trigger the automatic thermal treatment, completely transparent for the operator and with no impact on the vehicle operations, to keep the filter clean and allow the engine to deliver top level performances in all applications.
SCR- technology on all 90 hp models; a liquid reductant agent (ammonia) is injected into the exhaust stream to reduce the level of NOx.

HIGH VISIBILITY

Wider glazed surface for safer operations

The large glazed surface with ultra-narrow wire side screens, cab-size rearview mirror, lowered threshold and thinner front pillars provide the best visibility in the market (ROPS / FOPS cab).

EFFECTIVE RIDE CONTROL

Optimised shock absorption

Comfort goes with productivity with CASE patented Ride Control. This optional feature is a shock absorber which reduces loader arm bouncing at elevated speed for greater material retention and increased operator comfort. More material moved, more quickly.

NEW JOYSTICKS

Easy and comfortable to operate

Narrower palm grip for better ergonomics
Closer switch layout and smaller head size for easier operation
Smaller EH pods for more legroom for the operators comfort.

HIGH VERSATILITY IN ALL APPLICATIONS

Connect Under Pressure (CUP) system to plug hydraulic hoses with no wrenches. Three different Auxiliary Hydraulics Packages offered:

1 Standard Flow Package

The standard system operates the majority of available hydraulic attachments
The proportional control provides a precise control of the attachment

2 High Flow Package

Up to 55% more flow with the high-flow auxiliary hydraulics option (level 5)
High Flow is required to operate attachments such as cold planers, rock wheels or trenchers
A 14-pin front electric system is also available to handle multiple movements of the attachment directly from the joysticks

3 Enhanced High Flow Package

30% more pressure on the auxiliary hydraulic system with the Enhanced High Flow option (package level 7) for extreme applications, such as large cold planers and mulchers
The package level 7 option includes also a second auxiliary hydraulic circuit for applications requiring multiple movements simultaneously
This option is available on the 90 hp models: SV340B and TV450
MODELS
Explore available Models
Find the right machine to fit your operation no matter how demanding the applications.
MEDIA GALLERY
Experience CASE