1121G
The 1121G wheel loader is part of the new G-series evolution wheel loaders by CASE Construction Equipment.
The 1121G is powered by an FPT Cursor 9 engine with up to 347 horsepower. Designed to withstand up to 17420 kg of full turn tipping load, and a bucket capacity of up to 5m³, this wheel loader is perfect for all-around usage in infrastructure, recycling and quarrying projects.

DOWNLOADS
Download Brochures
Share or download a brochure for additional information.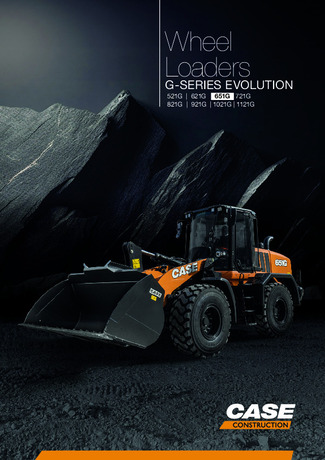 G-Series Wheel Loaders
2.15MB
Explore the Features
The CASE 1121G is a high-performance equipment with incredible versatility owing to its three linkage options. And now, with upgraded features, it does everything that a wheel loader is expected to deliver, and more: More Productivity, More Reliability and More Profitability!

The 1121G gives your operators a new driving experience with a comprehensive touchscreen display and configurable shortcut buttons. Maintain control of your production target with the new integrated payload and seamlessly log data to hit daily targets! With the 1121G wheel loader, you get the utility of 2 machines thanks to the new parallel lift function! The 1121G promises more reliability with the best-in-class components like the heavy-duty axles and the most efficient cooling system in the market with its unique "cube" design. Enjoy the long life of your wheel loader with a new Tire Pressure Monitoring System (TPMS).
With the extended service intervals thanks to SiteConnect on our G-series evolution wheel loaders, you can save 20% on total maintenance costs!
Compatible Attachments
Your CASE equipment is the platform - your attachments make the difference in how much work you win and how profitable your machine is.
SPECIFICATIONS
Compare Specifications
ENGINE

Maker & Model

No. of cylinders

Displacement (l)

Air intake

Injection

After Treatment System

Emission level

Maximum power (kW)

Maximum power (hp)

@ Engine speed (ISO 14396) (rpm)

@ Engine speed (ISO 14396) (rpm)

Maximum Torque (Nm)

TRANSMISSION

AXLES AND DIFFERENTIAL

TYRES

BRAKES

HYDRAULICS

AUXILIARY HYDRAULIC CIRCUIT

SERVICE CAPACITIES

CAB PROTECTION

NOISE AND VIBRATION

ELECTRICAL SYSTEM