D-Series Midi-Excavators
UNCOVER THE NEW CASE D SERIES MIDI EXCAVATOR
The new MIDI D series, as their predecessors Tier IV based CX75C SR and CX80C MSR, come in two models: CX85D SR and CX90D MSR to respond to different needs and application.
The CX85D SR is a short radius model, which can work in only 2920 mm (1630 mm front swing + 1290 mm tail swing) and it has the same mono boom design of larger excavators. It is offered also in the OFFSET version which increases the working area without repositioning the machine.
The CX90D MSR has a SWING boom design, which makes it perfect when manoeuvrability and maximum reach are the priority. The generous swing angles (left 80° ; right 45°) combined with excellent visibility in every direction contribute to its great success.

DOWNLOADS
Download Brochures
Share or download a brochure for additional information.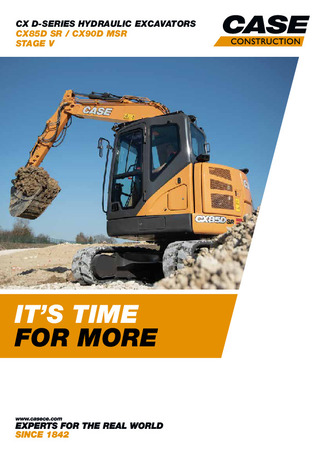 D-Series Midi-Excavators
1.35MB
Explore the Features
NEW STAGE V ENGINE: THE MOST POWERFULL IN THE SEGMENT

20% more power (kw); 45% greater displacement; 56% more torque

The new STAGE V engine is a highly reliable 4-cylinder 68 HP Yanmar engine, largely used in the market. The new engine is the most powerfull in the segment and meets the latest EU standards for engine exhaust emissions that set new limit for particle number (PN) and further reduced particulate matter (PM) levels.

More energy saving, more power but with less fuel

The new YANMAR engine makes less effort (works nice and easy) and can better support the pump with higher torque even against high load pressure: engine is less overloaded and consumes less (-4,5% in SP mode and -3,2% in H mode) confirming the best in class speed.

IMPRESSIVE SPEED AND LESS CONSUMPTION

High performance hydraulics

The new CASE MIDI D series confirm to have the best in class speeed and a lower fuel consumption. Reasons behind is a greater balance of the different components of the machines (engine, pump) and the Pump Transition reduction Control (PTC) inheritated from higher class CASE excavators, which is a very accurate system that continuously monitors machine operations and then decreases pump loads whenever possible, adapting to the type of job. As a result, hydraulic power is available on demand, pump and engine are less overloaded and fuel consumption is minimised.

BOOM TYPES FOR EVERY NEED

Offset boom - version on CX85D:
It increases the working area without repositioning the machine. Comfortable side digging due to excellent view of the bucket or attachment at work. The minimum working distance allows for operations in very tight spaces.
Mono boom - version on CX85D:
It can work in only 2920 mm (1630 mm front swing + 1290 mm tail swing). The same mono boom design of larger excavators provides outstanding robustness and reliability.
Swing boom - version on CX90D:
Excellent manoeuvrability and maximum reach. The generous swing angles (left 80° ; right 45°) combined with excellent visibility in every direction contribute to a great productivity.

CABIN AS BIG EXCAVATORS

Incredible full round view

The large cab with its huge glazed area provides outstanding visibility all round and on to the bucket or attachment allowing easier and safer operations.

Work safely in tight spaces

The short tail and front swing radius design make D-Series mid size excavators the best solution to work efficiently in confined spaces. The compact design minimises disruption in urban and road jobsites, as well as the possibility of hitting something when swinging the upper structure of the machine. Swing cylinder and door are well protected.

The smooth and round shape design of the CASE D series MIDI cab was studied for maximum reliability and functionality. The CX85D SR can work in a space of less than 3 meters wide!

NEW MONITOR AS A 50 TONNES CASE EXCAVATOR!

More features

The new 7" full-color LCD monitor, has got a new design, higher contrast, 5 more menu, as a 50 tonnes CASE excavator! Live key parameter are now available: on rpm, pumps, batterie tention, consumption per hrs, week, litres cumulated, residual time for engine cooling, engine hours, travelling time, rotation, operation and real working time or even hammer time utilization, and more.

Every machine is equipped with the efficient automatic A/C, which creates a pleasant climate inside the cab with its 6-vent system combined with a high wind flow of 430 m3/s. Proportional controls of the first and second auxiliary circuits can be ordered as optional for maximum controllability and comfort, when the machine is used with hydraulic powered attachments.

SAFE AND EASY MAINTENANCE

The hydraulic system, filters, engine and radiators can easily be reached from ground level, allowing intuitive, safe and fast maintenance operations. Cooling system has been improved and optimized to simplify maintenance. Battery switch is easier to use and to reach.

Convenient access from the cab

The A/C internal recirculation filter and the fuse box are easily accessible from inside the cab.

Simplified diagnostics

The built-in monitor system includes 13 self-diagnosis system that alerts the operator in case of clogged air, oil or hydraulic filters, and gives reminders of due maintenance by remaining hours prior change, preventing damage to the machine.

New fuel filter supply line

New main fuel pre filter water separator sensor linked to a dedicated message on machine monitor to drain water when level in filter is too high. Additional safety filter (maintenance free) to protect the engine from dust: no need to flush after filter replacement.
MODELS
Explore available Models
Find the right machine to fit your operation no matter how demanding the applications.
Compatible Attachments
Your CASE equipment is the platform - your attachments make the difference in how much work you win and how profitable your machine is.
MEDIA GALLERY
Experience CASE