CX19D
The CX19D mini excavator is part of the CASE Construction Equipment D-Series Mini Excavators. This mini excavator has an operating weight of 1880kg for canopy version and 1990 kg for cab version and uses a YANMAR 3TNV76 - STAGE 5 engine that can power 18.6hp. The CX19D is considered one of the most compact mini excavators of the D-Series.



DOWNLOADS
Download Brochures
Share or download a brochure for additional information.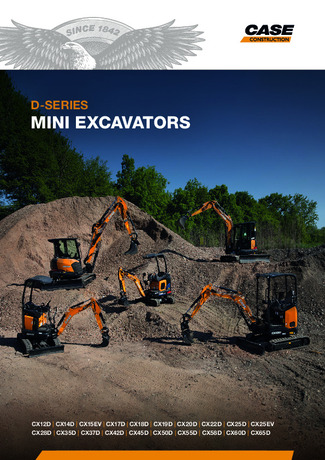 D-Series Mini-Excavators
5.96MB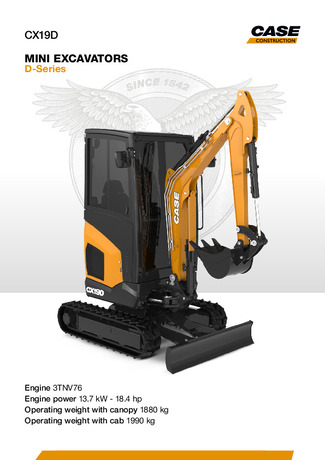 Weight with rubber tracks
1990 kg - Cab version
Explore the Features
The CX19D mini excavator can be offered in cab or canopy version, it has rubber tracks and can deliver a digging depth of up to 2480mm . It is a popular choice for busy urban and infrastructure sites with high traffic or sites with other equipment types present. The CX19D mini excavator has been designed to meet European customers' needs.
To ensure agility and manoeuvrability at ease even in confined spaces, the CX19D is a zero-tail swing model. We strive to innovate practical solutions with the end goal of increasing productivity. From this aim, stems high technology features such as electro-hydraulic controls, hydraulic flow settings, and up to 3 auxiliary circuits that can be paired with a vast variety of quick couplers and attachments, rendering the CX19D extremely versatile in its applications.

The CX19D can be equipped with CASE SiteWatch and SiteConnect services, a range of after-sales services that support your experience with CASE Equipment. In order to be compliant with the progressively more stringent environmental requirements in various European countries and cities, the CASE CX19D mini excavator is compatible with bio hydraulic oil and lubricants, which is in fact offered as the ex-factory option.
Let's learn all about the features and their benefits in further detail.

Front Protection grid (Level 2)
Arm cylinder and bucket cylinder protection
Vast variety of attachments
Full range of Mechanical and Hydraulic quick couplers
Full range of Buckets


SPECIFICATIONS
Standard Equipment
Tiltable Cab/Canopy (ROPS/TOPS - FOPS Level 1)
Heating
Automatic Courtesy light
Electric plug on the roof for Rotating Beacon
Windshield washer
Rear-view mirrors (left, right)
Fabric seat with Mechanical suspension (cab)
Vynil seat with Mechanical suspension (canopy)
Standard arm
Boom Lift cylinder and dozer blade cylinder protection
Standard counterweight
Servo-assisted hydraulic joysticks with Electro-Hydraulic proportional controls
Electro-Hydraulic proportional Swing control
1st Auxiliary (AUX1) circuit with Electro- Hydraulic proportional control
AUX1 circuit maximum flow mechanical setting
Mechanical diverter between Single effect and Double effect AUX1
2 speed travel with Automatic Shift Down (from 2nd to 1st gear if more traction is required) and Shift-up
Rubber tracks
Standard Dozer Blade
Extendable undercarriage
Operator manual
Ignition key, which opens every machine lock
Standard LED working lights (boom)
Battery disconnect switch
Variable Volume Pump
Standard Hydraulic oil and Lubricants

SPECIFICATIONS
Optional Equipment
DAB Radio, Bluetooth, USB, Memory card SD/SDHC, Aux-in (cab only)
Anti-Theft
Travel alarm
Long arm
Additional counterweight
2nd Auxiliary (AUX2) circuit with Electro-Hydraulic propotional control and flow diverter from boom swing
Grapple provision (AUX3 with flow diverter from bucket cylinder)
Direct Drainage to tank
Block valves on dozer blade cylinder
Object handling kit (block valves on boom and arm, lifting hook and load chart)
Extra LED working lights (cab-front and cab-rear)
Rotating beacon
CASE Sitewatch and SiteConnect
Bio Hydraulic oil and Lubricants
High Flow provision (i.e. for Mulcher)
Hydraulic quick coupler provision (Single or Double Effect)
Mechanical and Hydraulic quick couplers
Buckets
Compatible Attachments
Your CASE equipment is the platform - your attachments make the difference in how much work you win and how profitable your machine is.
SPECIFICATIONS
Compare Specifications
ENGINE

Type

Max. Power (kW / hp)

Displacement (cm³)

Supply

Number of cylinders (n°)

Cooling

Consumption (l/h)

Alternator V (Ah)

Battery V (Ah)

HYDRAULIC SYSTEM

SLEWING & TRAVEL SPEED

CONTROLS

WEIGHTS

CIRCUIT AND COMPONENT CAPACITIES

SUPPLY

CHARGING TIMES

OPERATING MODES