CX25EV
Introducing the new Mini Excavator CX25EV, a bigger version of the Mini Excavator CX15EV from CASE Construction Equipment's D-Series Mini Excavators. Just like its little brother, this electric excavator has zero emissions and can deliver the same performance as its diesel counterparts. It's perfect for urban and infrastructure sites with high traffic and other equipment types present.

DOWNLOADS
Download Brochures
Share or download a brochure for additional information.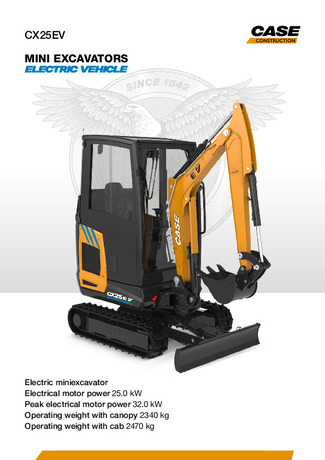 CX25EV - Specsheet
2.42MB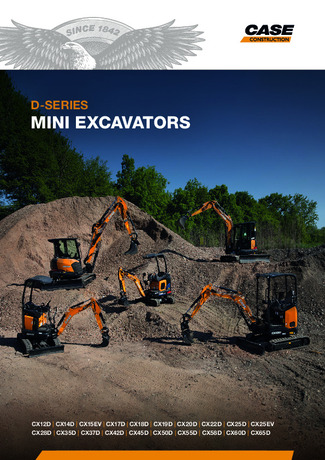 D-Series Mini-Excavators
5.96MB
Weight with rubber tracks
2090 kg - Canopy version
Explore the Features
The CX25EV has a more powerful engine than the CX15EV, with a rated power of 25kW and a peak power of 32kW. The lithium-ion battery has a gross capacity of 32.3 kWh, providing up to 8 hours of autonomy in eco mode and up to 4 hours in standard mode. It's also equipped with an on-board charger that can fully recharge the battery in 9 hours using a 220V outlet or in just 2 hours with an optional external three-phase rapid charger.

This mini excavator is highly versatile, with hydraulic flow settings and up to 3 auxiliary circuits that can be paired with a variety of quick couplers and attachments. The CX25EV is also equipped with electro-hydraulic controls and has a short-radius design, making it easy to maneuver in tight spaces.

Superior Protection grid (FOPS Level 2)
Front Protection grid (Level 2)
Arm cylinder and bucket cylinder protection
Vast variety of attachments
Full range of Mechanical and Hydraulic quick couplers
Full range of Buckets

SPECIFICATIONS
Standard Equipment
Tiltable Cab/Canopy (ROPS/TOPS - FOPS Level 1)
Windshield washer
Rear-view mirrors (left, right)
Fabric seat with Mechanical suspension (cab)
Vynil seat with Mechanical suspension (canopy)
Standard arm
Boom Lift cylinder and dozer blade cylinder protection
Standard counterweight
Travel alarm
Electro-Hydraulic joysticks
Electronic display and controls
3 pre-set control modes
Electronic flow setting for every movement and auxiliary circuits
1st Auxiliary (AUX1) circuit with Electro-
Hydraulic proportional control
2 speed travel with Automatic Shift
Down (from 2nd to 1st gear if more traction is required) and Shift-up
On-board battery charger (220 VAC)
Rubber tracks
Standard Dozer Blade
Extendable undercarriage
Operator manual
Ignition key, which opens every machine lock
Standard LED working lights (boom)
Battery disconnect switch
Variable Volume Pump
Bio hydraulic oil and lubricants
CASE Sitewatch and SiteConnect


SPECIFICATIONS
Optional Equipment
DAB Radio, Bluetooth, USB, Memory card SD/SDHC, Aux-in (cab only)
Long arm
2nd Auxiliary (AUX2) circuit with Electro-
Hydraulic proportional control and flow diverter from boom swing
Grapple provision (AUX3 with flow diverter from bucket cylinder)
Direct Drainage to tank
Block valves on dozer blade cylinder
Object handling kit (block valves on boom and arm, lifting hook and load chart)
Extra LED working lights (cab-front and cab-rear)
Portable fast charger (380 VAC)
Rotating beacon
Hydraulic quick coupler provision (Single or Double Effect)
Mechanical and Hydraulic quick couplers
Buckets
Compatible Attachments
Your CASE equipment is the platform - your attachments make the difference in how much work you win and how profitable your machine is.
SPECIFICATIONS
Compare Specifications
ENGINE

Type

Max. Power (kW / hp)

Supply

Displacement (cm³)

Number of cylinders (n°)

Cooling

Consumption (l/h)

Alternator V (Ah)

Battery V (Ah)

HYDRAULIC SYSTEM

SLEWING & TRAVEL SPEED

CONTROLS

WEIGHTS

CIRCUIT AND COMPONENT CAPACITIES

SUPPLY

CHARGING TIMES

OPERATING MODES