321F
The 321F model stands as a testament to the F-Series Compact Wheel Loaders' prowess. With a high power output of 74 hp, this compact loader is crafted to tackle the most demanding loading tasks with ease. Its user-friendly design doesn't compromise on performance, making it a highly efficient and easy-to-operate loading machine. The brand new color display and keypad ensure easy customisation, while cruise control enhances on-road travel efficiency.
Notably, 321F wheel loader model boast a 40 km/h high-speed version and a long reach loader arm solution to support all applications.

DOWNLOADS
Download Brochures
Share or download a brochure for additional information.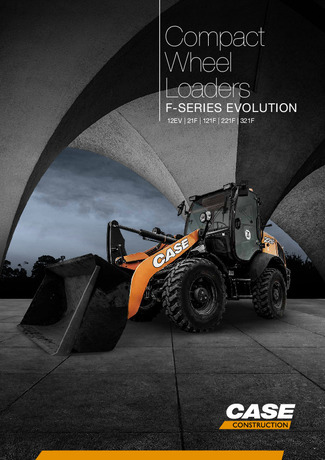 F-Series Evolution Compact Wheel Loaders
3.01MB
Payload @80%
2913 (Z-BAR) / 2652 (XT) kg
Bucket Volume (SAE)
1.0 - 1.3 m³
SPECIFICATIONS
Compare Specifications
CAB & OPERATOR COMPARTMENT

ROPS/FOPS Level II base cab (tilt adjustment of the steering column, partially openable right window)

ROPS/FOPS Level II deluxe cab (full adjustment of the steering column, 180° openable swing door, larger storage compartment)

Mechanical suspended seat

Air suspended seat

Wide rear view mirror

Heater

Air conditioning

Color display with encoder

Keypad for easy machine settings

Radio with MP3 and USB plug

Rotating beacon

TRANSMISSION

AXLES

BRAKES

STEERING

TYRES

ELECTRO-HYDRAULIC FEATURES

ADDITIONAL FEATURES

QUICK COUPLER

ELECTRICAL SYSTEM

CAPACITIES

CONNECTIVITY

NOISE AND VIBRATIONS