1121G
The 1121G wheel loader is part of the new G-series evolution wheel loaders by CASE Construction Equipment.
The 1121G is powered by an FPT Cursor 9 engine with up to 347 horsepower. Designed to withstand up to 18886 kg of full turn tipping load, and a bucket capacity of up to 5m³, this wheel loader is perfect for all-around usage in infrastructure, recycling and quarrying projects.

DOWNLOADS
Download Brochures
Share or download a brochure for additional information.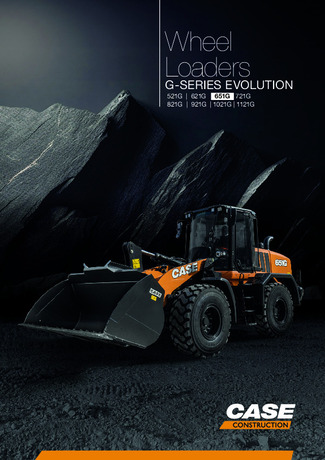 G-Series Evolution Wheel Loaders - Brochure
2.15MB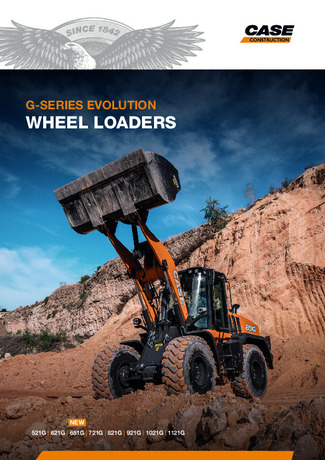 G-Series Wheel Loaders - Specsheet
9.93MB
Tipping load, full turn
Z-BAR 18886/ XR 16568 kg
Bucket Volume
Z-BAR 5.0/ XR 4.8 m³
Operating weight
28.1 - 28.8 t
Compatible Attachments
Your CASE equipment is the platform - your attachments make the difference in how much work you win and how profitable your machine is.
SPECIFICATIONS
Compare Specifications
ENGINE

Maker & Model

No. of cylinders

Displacement (l)

Air intake

Injection

After Treatment System

Emission level

Maximum power (kW)

Maximum power (hp)

@ Engine speed (ISO 14396) (rpm)

@ Engine speed (ISO 14396) (rpm)

Maximum Torque (Nm)

TRANSMISSION

AXLES AND DIFFERENTIAL

TYRES

BRAKES

HYDRAULICS

AUXILIARY HYDRAULIC CIRCUIT

SERVICE CAPACITIES

CAB PROTECTION

NOISE AND VIBRATION

ELECTRICAL SYSTEM