CX350D
The CX350D is regularly deployed with confidence into both mass excavation operations as well as localized site and project work. With a Stage V engine as powerful as efficient and the well-trusted CASE Intelligent Hydraulic System deploying smoothness and controllability under every circumstance, the CASE CX350D can be the perfect match of power, precision, performance and efficiency that will do both the heavy cut as well as the final site preparation. Fast cycles, reduced running costs and unmatched comfort all contribute to make the CX350D a great ally to your business profitability.

DOWNLOADS
Download Brochures
Share or download a brochure for additional information.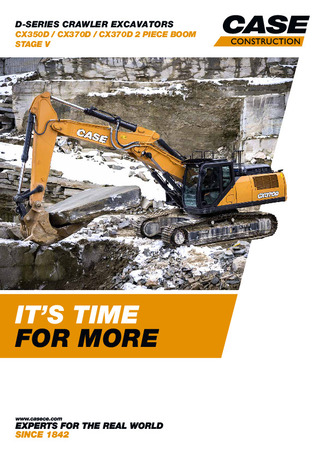 Crawler Excavators - CX350D/CX370D
2.77MB

SPECIFICATIONS
Standard Equipment
Isuzu 6-cylinder turbo-charged diesel
EU stage V Certified
Selective Catalytic Reduction (SCR)
Diesel Oxidation Catalyst (DOC)
Cooled Exhaust Gas Recirculation (CEGR)
Diesel Particulate Diffuser (DPD)
VGT turbocharger
Electronic fuel injection
High pressure common rail system
Neutral safety start
Auto-engine warm up, emergency stop
Glow-plug pre-heat
Engine Protection Feature (EPF)
Dual-stage fuel filtration
Dual element air filter
Remote oil filter
Green plug oil drain
500-hour engine oil change interval
24-Volt system
Battery disconnect switch
External Fuel and AdBlue gauges
Fuel cooler
Fuel filter restriction indicator
Fuel prefilter Water sensor with dedicated message on Cabin monitor
Idle start
Radiator, oil cooler, intercooler – protective Screen
Refueling Pump
Auto-idle
One-touch idle
Auto-idle shut-down
Torque control
Boom Economy Control (BEC)
Swing Relief Control (SWC)
Spool Stroke Control (SSC)
Electronically controlled hydraulic pumps
Auto power boost
Auto travel speed change
Selectable work modes
Overload warning device
ISO pattern controls
Pre-set auxiliary pump settings
Switch controlled auxiliary selection
Auxiliary valve
Hydraulic filter restriction indicator
Oil cooler
5,000 hour hydraulic oil change interval
2,000 hour hydraulic filter change interval
ISO mirrors
Handrail and
Isolation mounted cab (fluid and spring)
Lifting eyes for counterweight
Lockable fuel cap, service doors and toolbox
Rear and side view safety camera
ROPS protection
FOPS guard OPG level II
Pressurized cab
Tempered safety glass
One-touch lock front window
Sun visor&rain deflector
AC/heat/defrost w/auto climate control
Hot&coolbox, cup holder & ashtray
Interior dome light
Cloth covered air-suspension high-back seat
Sliding seat – 90 mm
Seat-belt
Adjustable armrests
Tilting consoles - 4-position
Low-effort joystick controls
Sliding cockpit 180 mm
Auxiliary select system
Aux-in port for personal electronics
Multifunction LED color monitor (180 mm)
26 selectable languages for monitor
Anti-theft system (start code system)
Rubber floormat
12-volt electric socket
24-volt cigarette lighter
One-piece right hand window
Working lights (boom&upperstructure)
Cab top working lights
Windshield wiper / washer
Clear (Lexan) roof window w/sunshade
Storage compartments
On-board diagnostic system
Standard boom 6.45m (CX350D)
HD boom 6.45m (CX370D)
Arm 3.25 (CX350D)
HD arm 3.25 (CX370D) with reinforcement plate and bars
Auxiliary pipe brackets with guard bar
Centralized lube bank
Attachment cushion valve
FOR 2PB
1st Boom length 3460 mm
2nd Boom length 3100 mm arm 3.25
600 mm steel triple grouser shoes
Full overlap turntable bearing tub
Sealed link chain
Lashing points
Double track guide (CX350D, CX370D 2PB)
Full track guide (CX370D)

SPECIFICATIONS
Optional Equipment
Low-flow circuit, proportional control
Single acting pedal activated hammer circuit
Single acting hammer circuit with electrical proportional control
Multifunction (hammer/high flow) circuit with electrical proportional control
Arm - 2.20/2.63/4.05 m (CX350D)
Arm - 2.63 (CX370D 2PB)
HD Arm - 2.20/2.63 (CX370D)
Hydraulic quick coupler provision
Safety valves and bucket linkage with hook
Front cab guard - vertical bars (OPG level 2)
Front cab guard - vertical bars (OPG level 1)
Front mesh screen
Travel alarm
AM/FM CD/radio with antenna and 2-speakers
LED working lights
LED lights (8 lights included side view camera with LED lights)
CASE Maximum View Monitor (CMVM) - 3 cameras system
Side view camera with LED lights (right and left)
700 mm steel triple grouser shoes
800 mm steel triple grouser shoes
900 mm steel triple grouser shoes (only for CX350 LC)
Full track guide (CX350D/CX370D 2PB)
Double (CX370D MONO)
Three years SiteWatch "Advanced" subscription with remote monitoring and one user's licence
Engine and hydraulic oil sampling ports
Retractable roller screen option available for rear cab window (as DIA kit only)
Compatible Attachments
Your CASE equipment is the platform - your attachments make the difference in how much work you win and how profitable your machine is.
SPECIFICATIONS
Compare Specifications
ENGINE

Model

Type

Number of cylinders/ Displacement (l)

Emissions level

Bore and stroke (mm)

Rated flywheel horse power - SAE J 1349, ISO 9249 (kW / hp)

Rated flywheel horse power - ISO 14396 (kW / hp)

Rated flywheel horse power - With fan pump (kW / hp)

Maximum torque - SAE J 1349, ISO 9249 (Nm)

Maximum torque - ISO 14396 (Nm) 

HYDRAULIC SYSTEM

SWING

FILTERS

ELECTRICAL SYSTEM

UNDERCARRIAGE

CIRCUIT AND COMPONENT CAPACITIES

SOUND LEVEL