WX175E SR
Discover the power and versatility of the WX175E SR wheeled excavator. With advanced controllability granted by the flow sharing hydraulic system and fuel efficient Cummins B4.5 engine, this 18 ton short radius wheeled excavator is perfect for versatile excavation jobs in urban environments.

DOWNLOADS
Download Brochures
Share or download a brochure for additional information.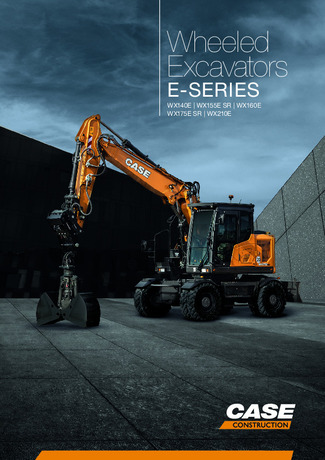 E-Series Wheeled Excavators
2.93MB
Operating weight 2PB
18820 kg
Explore the Features
The WX175E SR is a top-of-the-line wheeled excavator from CASE E-Series lineup, offering versatile and powerful digging capabilities.

With its 18 ton operating weight combined with a short radius tail swing, this excavator is perfect for any job, big or small. The Load Independent Flow Sharing (LUDV) hydraulic system provides maximum output and efficiency, while the three engine power modes help achieve fuel savings or maximum productivity according to the task at hand. The 8-inch touchscreen monitor and joystick steering system make controlling the machine easy, and the Grammer seat ensures comfort even in tough conditions.
he visibility enhancement offered by the CASE Maximum View Monitor and its 360° cameras with human detection make this excavator a reliable and safe choice.

Experience ultimate comfort and safety in the excavator's cab with the WX175E SR from CASE E-Series Wheeled Excavators.

SPECIFICATIONS
Standard Equipment
Cummins B4.5, 4-cycle, turbocharged, charge air cooled, electronic controlled diesel engine
Stage V
Selective Catalytic Reduction (SCR)
Diesel Particulate Filter (DPF)
Diesel Oxidation Catalyst (DOC)
EGR-free
Wastegate turbocharger
Electronic fuel injection
High pressure common rail system
Auto engine preheat
Emergency stop switch
Remote oil filter
Dual-stage air filtration
Fuel cooler
800-hour engine oil and filter change interval
1,000-hour fuel filters change interval
24-volt system
Battery disconnect switch
Cooler with removable dust net
Fuel filter + fuel prefilter with water accumulation indicator
Electric refueling pump
Reversible cooling fan electronically controlled
Cruise control
Eco mode
Auto idle
One-touch idle
Idle shutdown
Eco gauge
Eco reports
Auto or manual power boost
2-speed 4-wheel drive hydrostatic transmission
Auto travel speed change
Creep speed
3 selectable power modes with additional user selection mode
3 selectable work operation modes
Overload warning device
Boom and arm safety valves
ISO pattern controls
Pre-set auxiliary pump settings
Switch controlled auxiliary selection
Auxiliary valve
Multifunction (hammer/shears) high flow circuit with electrical proportional control
FNR control switch
Automatic swing brake
Auto safety lock
Oil cooler
5,000-hour hydraulic oil change interval
2,000-hour hydraulic tank suction strainer change interval
Hydraulic quick coupler provision
Hydraulic fluid supply port with air breather
ISO mirrors
Handrail – RH access
ISO guard rails
Cab suspension with silencer blocks
Lifting eyes for counterweight
Lockable fuel cap, service doors and toolbox
Rear view safety camera
ROPS protection
FOPS guard OPG level 2
Tempered safety glass with laminated windshield
Sun visor
A/C, heating and defrosting with automatic control
Telescopic steering wheel
Cup holder & sunglasses case
Adjustable air suspension tiltable and heated seat
Tiltable joystick console
Seat belt with fasten detection
Adjustable armrests
USB radio with MP3 player and hands-free
Bluetooth kit
Multifunction touchscreen color monitor (8") with Android mirroring
Secondary camera display
16 selectable languages for monitor
Jog dial
Anti-theft system (start code system)
Split type floor mat
12-volt and 24-volt electric sockets
6 LED work lights (2 cab roof, 1 LH boom,
1 RH boom, 1 cab rear, 1 rear camera)
Parallel double windshield wiper
Hot & cool box, document holder & luggage space
Mono boom 5.0 m
2-piece boom 5.1 m
Arm 2.45 m
Attachment types and names storable in the display
Selectable activation type (push, proportional, detent)
Front oscillating and rear rigid heavy duty axles
Front axle cylinders safety valves
Tube twin tires with stone ring 10.00-20 PR 16
Rear blade
Lashing points
LH side toolbox
Wheel chocks

SPECIFICATIONS
Optional Equipment
Engine pre-filter self-cleaning cyclonic type
Clamshell circuit
Low-flow circuit, proportional control
Fine swing control
Swing lock control
Joystick steering control
Automatic digging brake
Ride control with boom flotation
Travel speed limiter (20 km/h)
Panolin bio oil
ISO/SAE pattern control change valve
Front cab guard - vertical bars (OPG level 2) including 2 extra cab front lights
RH rear mirror camera
CASE Maximum View Monitor - 360° view with four cameras enabling pedestrian recognition and warning
Smart key
Cab roof LED beacon
Wide axles
Solid twin tires 10.00-20
Plastic fenders steerable on front axles
Trailer hitch preparation
Rear stabilizers
Rear blade with front stabilizers
Front blade with rear stabilizers
Front and rear blade
Front and rear stabilizers
Rear blade or stabilizers can include also front bucket rest or grab bucket rest
RH side toolbox
SPECIFICATIONS
Compare Specifications
OPERATING WEIGHT (REAR BLADE)

Mono Boom kg

2PB kg

ENGINE

HYDRAULIC

DIMENSIONS

CAPACITIES

LIFTING CAPACITY (2PB, STD ARM)

DIGGING FORCE

SWING

TRAVEL

NOISE