121F
The 121F model, part of CASE's F-Series Compact Wheel Loaders, is here to redefine your loading operations. With a power of 64 hp, this compact loader is engineered to manage a broad spectrum of loading tasks effortlessly. Its user-friendly interface guarantees a hassle-free operation, making your day-to-day loading tasks smoother and more efficient.
What sets the 121F apart is its seamless blend of strength and ease of use, creating a conducive environment for operators to complete their tasks quickly and accurately. The efficient engine technology and the brand new electrohydraulic features underscore this model's commitment to fuel efficiency, making it a front loader that not only meets the operational demands but also is mindful of operational costs.

DOWNLOADS
Download Brochures
Share or download a brochure for additional information.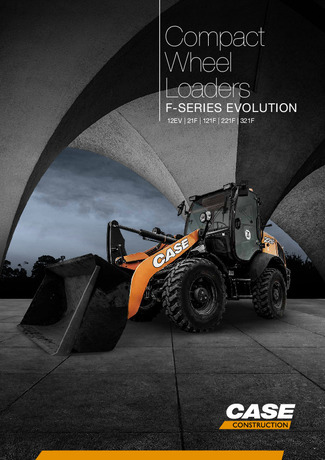 F-Series Evolution Compact Wheel Loaders
3.01MB
Payload @80%
1901 (Z-BAR) kg
Bucket Volume (SAE)
0.8 - 1.1 (Z-BAR) m³
SPECIFICATIONS
Compare Specifications
CAB & OPERATOR COMPARTMENT

ROPS/FOPS Level II base cab (tilt adjustment of the steering column, partially openable right window)

ROPS/FOPS Level II deluxe cab (full adjustment of the steering column, 180° openable swing door, larger storage compartment)

Mechanical suspended seat

Air suspended seat

Wide rear view mirror

Heater

Air conditioning

Color display with encoder

Keypad for easy machine settings

Radio with MP3 and USB plug

Rotating beacon

TRANSMISSION

AXLES

BRAKES

STEERING

TYRES

ELECTRO-HYDRAULIC FEATURES

ADDITIONAL FEATURES

QUICK COUPLER

ELECTRICAL SYSTEM

CAPACITIES

CONNECTIVITY

NOISE AND VIBRATIONS