221F
Meet the 221F model, a compact wheel loader that combines power and smooth operation. With 74 hp, this machine is ready to tackle more demanding tasks. Cruise through your day with the user-friendly features and enjoy the 40 kph high-speed option this model offers for on-road travels. The eco-mode feature is a standout, promising reduced fuel consumption and lower noise levels, making these wheel loaders a smart and eco-conscious choice for any task at hand.
Whether it's handling a construction site's demands or managing material loading at a warehouse, the 221F compact loader is geared to provide a mix of power, ease, and efficiency, turning tedious tasks into manageable, quick operations.

DOWNLOADS
Download Brochures
Share or download a brochure for additional information.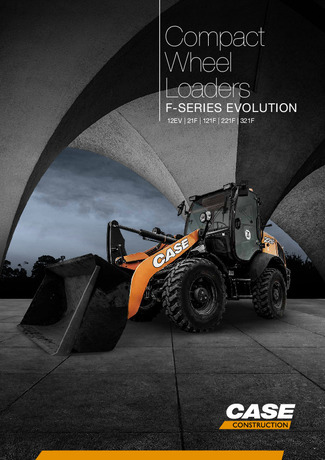 F-Series Evolution Compact Wheel Loaders
3.01MB
Payload @80%
2249 (Z-BAR) kg
Bucket Volume (SAE)
0.9 - 1.2 (Z-BAR) m³
SPECIFICATIONS
Compare Specifications
CAB & OPERATOR COMPARTMENT

ROPS/FOPS Level II base cab (tilt adjustment of the steering column, partially openable right window)

ROPS/FOPS Level II deluxe cab (full adjustment of the steering column, 180° openable swing door, larger storage compartment)

Mechanical suspended seat

Air suspended seat

Wide rear view mirror

Heater

Air conditioning

Color display with encoder

Keypad for easy machine settings

Radio with MP3 and USB plug

Rotating beacon

TRANSMISSION

AXLES

BRAKES

STEERING

TYRES

ELECTRO-HYDRAULIC FEATURES

ADDITIONAL FEATURES

QUICK COUPLER

ELECTRICAL SYSTEM

CAPACITIES

CONNECTIVITY

NOISE AND VIBRATIONS