580SV
Expanding on the rock-solid legacy of previous generations, 580SV is more efficient, comfortable and productive than ever before. The new 3.6-litre FPT Stage V engine maintains the same best-in-class power and torque density of its Stage IV predecessor, notwithstanding the more stringent emissions requirements, and adding an ECO mode as standard feature to minimize fuel consumption.
We designed with FPT an After-Treatment System specifically for backhoe loader applications - because we know them inside out!!
With the SV-Series we have taken operator comfort to the next level, with a wider, more ergonomic and stylish cab, along with great visibility.

DOWNLOADS
Download Brochures
Share or download a brochure for additional information.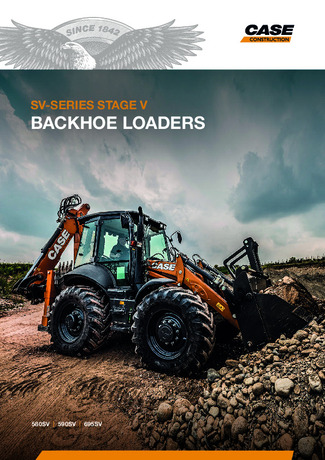 SV-Series Backhoe Loaders
3.11MB
Dump Reach at full height
STRAIGHT LOADER ARM: Std bucket 815 mm, 4 x 1 bucket 785 mm
TOOL CARRIER LOADER ARM: Std bucket 844 mm, 4 x 1 bucket 825 mm
Compatible Attachments
Your CASE equipment is the platform - your attachments make the difference in how much work you win and how profitable your machine is.
SPECIFICATIONS
Compare Specifications
ENGINE

Make and Model

Injection system

Emissions level

# of cylinders 

Bore / Stroke 

Displacement / Compression ratio 

Engine rated Power (ISO 14396) 

Max Net Power 

Maximum torque (ISO 14396) 

Engine speeds 

TRANSMISSION 

FRONT AXLE

REAR AXLE

BRAKES

TIRES

STEERING

HYDRAULIC SYSTEM

SERVICE CAPACITIES

ELECTRICAL SYSTEM

CAB

NOISE