CX160E
Looking for a crawler excavator that promises efficient productivity, enhanced versatility, cleaner power, comfortable and safer operations, and easy maintenance? Look no further than the CX160E crawler excavator. The CASE CX160E crawler excavator is part of the CASE E-Series. This excavator uses an FPT NEF4 engine that can power up to 90.4 kW at 2200 min-1 and has an operating weight of up to 17.3t.

DOWNLOADS
Download Brochures
Share or download a brochure for additional information.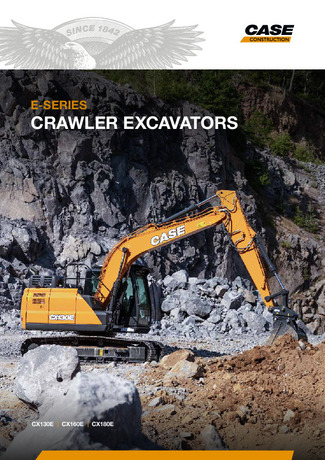 E-Series Crawler Excavators CX130E/CX160E/CX180E
3.74MB
Explore the Features
CX160E Crawler Excavator Advantages
The CX160E crawler excavator is configurable with the CASE SiteConnect module for interactive maintenance. This functionality also allows operators to seek remote assistance.You can count on the CX160E crawler excavator in urban, infrastructure, and recycling job sites for its reliability, unbeatable speed vs control ratio, outstanding comfort and low fuel consumption. The upgrades on the upper carrier rollers of the CX160E give the digger greater durability.

The E-Series crawler excavators are packed with extra features that provide comfortable working conditions for the operators. The pressurised cab has improved sealing, with wide access space and increased foot space. The console is suspended with the seat and has optimised control lever positions thanks to which the operator can maintain their preferred working posture when they adjust the seat's position. The E-series crawler excavators feature the largest monitor in the industry (25cm) with high resolution and has five buttons that can be configured to directly enter the most frequently used menus or screens, increasing efficiency and productivity further.
Learn about all the features and advantages the CASE CX160E crawler excavator can give you.

SPECIFICATIONS
Standard Equipment
FPT NEF 4-cylinder turbo-charged diesel
Stage V
Selective Catalytic Reduction on Filter (SCRoF)
Diesel Oxidation Catalyst (DOC)
EGR-free
VGT turbocharger
Electronic fuel injection
High pressure common rail system
Neutral safety start
Auto engine warm up, emergency stop
Glow-plug pre-heat
EPF (Engine Protection Feature)
Dual-stage fuel filtration
Dual element air filter
Remote oil filter
Green plug oil drain
1,000 hour engine oil and fuel filters change interval
24-volt system
Battery disconnect switch
High ambient temperature cooling package
External fuel and AdBlue gauges
Fuel cooler
Fuel filter + fuel prefilter with water accumulation indicator
Fuel shut-off valve
Idle start
Radiator, oil cooler, intercooler – protective screen
Refueling pump
Eco mode
Auto idle
One-touch idle
Idle shutdown
Pump Torque Control (PTC)
Boom Economy Control (BEC)
Swing Relief Control (SRF)
Spool Stroke Control (SSC)
Boom Oil Regeneration (BOR)
Hydraulic flow control balance
Electronically controlled hydraulic pumps
Auto power boost
Auto travel speed change
4 selectable work modes
Overload warning device
ISO pattern controls
Pre-set auxiliary pump settings
Switch controlled auxiliary selection
Auxiliary valve
Hydraulic filter restriction indicator
Oil cooler
5,000 hour hydraulic oil change interval
2,000 hour hydraulic filter change interval
Hydraulic quick coupler provision
Hydraulic fluid supply port with air breather
ISO mirrors
Handrail – RH access
ISO guard rails
Isolation mounted cab (fluid and spring)
Lifting eyes for counterweight
Lockable fuel cap, service doors and toolbox
Rear and side view safety camera
Sliding seat – 90 mm
Seat belt with fasten detection
Adjustable armrests
Low-effort joystick controls
Sliding cockpit - 80 mm
Auxiliary select system
Aux-in port for personal electronics
Multifunction LED color monitor (10"), with silicon switches
22 selectable languages for monitor
Anti-theft system (start code system)
Split type floor mat
12-volt electric socket
24-volt cigarette lighter
One-piece right hand window
4 halogen work lights (2 cab roof, 1 LH boom, 1 toolbox)
Windshield wiper / washer
Clear (Lexan) roof window with sunshade
Storage compartments
On-board diagnostic system
ROPS protection
FOPS guard OPG level 2
Pressurized cab
Tempered safety glass
One-touch lock front window
Sun visor & rain deflector
A/C, heating and defrosting with automatic control
Luch box & cool box, cup holders & ashtray
Interior dome light
Multi-adjustable low frequency air suspension console and tiltable seat with air springs and double acting hydraulic damper
Standard boom 4.63 m (CX130E) or 5.15 m (CX160E / CX180E)
Long reach boom 7.4 m (CX130E Long Reach)
Arm 2.50 m (CX130E) or 2.62 m (CX160E / CX180E)
Long reach arm 5.3 m (CX130E Long Reach)
Attachment types and names storable in the display
600 mm steel triple grouser shoes
700 mm steel triple grouser shoes (only on CX130E Long Reach)
Full overlap turntable bearing tub
Sealed link chain
Lashing points
SiteConnect module and 3 years advanced SiteWatch subscription with remote monitoring

SPECIFICATIONS
Optional Equipment
Engine oil and hydraulic oil sample port
Clamshell circuit
Low-flow circuit, proportional control (n.a. on CX130E Long Reach)
Single acting hammer circuit with electrical proportional control
Multifunction (hammer/high flow) circuit with electrical proportional control (n.a. on CX130E Long Reach)
Double acting circuit with electrical proportional control (only on CX130E Long Reach)
Heated seat
Front cab guard - vertical bars
Front cab guard - vertical bars (OPG level 1), available as DIA kit
Front mesh screen, available as DIA kit
Travel alarm
AM/FM Bluetooth radio with antenna and 2 speakers
8 LED work lights (2 cab roof, 1 LH boom, 1 toolbox, 4 all-around)
Rain deflector
CASE Maximum View Monitor - 270° view with additional left side camera
HD boom 4.63 m (CX130E)
Arm HD 2.10 / 3.01 m (CX130E) or 3.05 m (CX160E / CX180E)
500 / 700 mm steel triple grouser shoes (CX130E / CX160E) or 700 / 800 mm steel triple grouser shoes (CX180E)
500 mm rubber link chain (CX130E)
Triple track (CX160E / CX180E) or double track guide (CX130E)
Compatible Attachments
Your CASE equipment is the platform - your attachments make the difference in how much work you win and how profitable your machine is.
SPECIFICATIONS
Compare Specifications
ENGINE

Model

Type

Number of cylinders / Displacement (l)

Emissions level

Bore and stroke (mm)

Rated flywheel horse power ISO 9249 (kW)

Rated flywheel horse power ISO 14396 (kW)

Maximum torque ISO 9249 (Nm)

Maximum torque ISO 14396 (Nm)

HYDRAULIC SYSTEM

SWING

FILTERS

ELECTRICAL SYSTEM

UNDERCARRIAGE

NOISE

CIRCUIT AND COMPONENT CAPACITIES