D-Series Mini-Excavators
The mini digger D-Series from CASE has an extraordinary range of 20 models from 1 to 6 tons, including two fully electric mini diggers and 2 under development. We have a broad range of new mini diggers for sale.

Download Brochures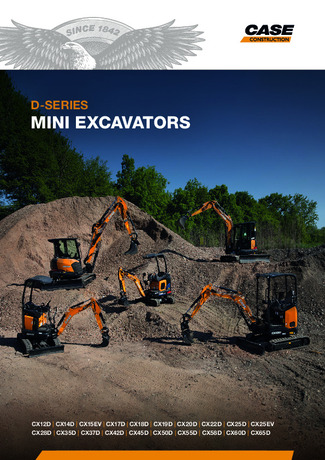 D-Series Mini-Excavators
5.96MB
Hear why customers trust CASE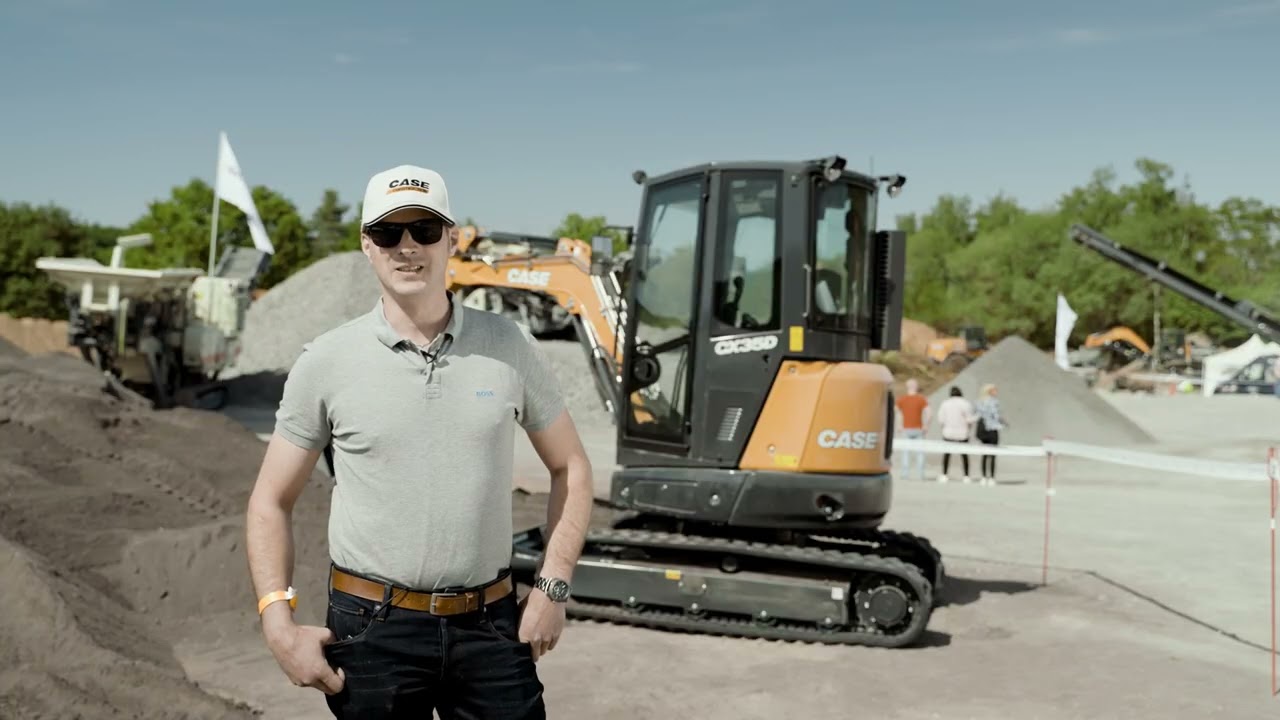 Hoffschröer Sägespalter GmbH., Germany - CX35D
German forestry contractor Daniel Hoffschröer gets behind the controls of the latest CASE CX35D mini excavator. With CASE excavators already in the Hoffschroer Saw Splitter GmbH fleet, he was immediately impressed with the machine's improved cab.
Explore the Features
FULL-FUNCTION MINI EXCAVATORS

Eleven of these CASE mini excavator models are 1 to 3-ton mini diggers, and five models from the series are in the 5 to 6-ton range. Depending on your requirement for operating weights, digging depths, and other specifications, the D-series is a popular choice for busy urban and infrastructure sites with high traffic or construction sites. We are the only brand to offer a range of so many mini diggers with excellent digging and operating capabilities given by 2-piece-boom versions:4 models. All our segments are covered with zero-tail swing models to ensure agility and manoeuvrability at ease, even in confined spaces.

We strive to innovate practical solutions with the end goal of increasing productivity. From this approach, stems high technology features such as electro-hydraulic controls, hydraulic flow settings, load-sensing electronic pumps, flow-sharing control valves, and up to 3 auxiliary circuits that can be paired with a vast variety of quick couplers and attachments, rendering the D-Series mini diggers extremely versatile in its applications. Maintenance of your D-Series small diggers comes easy with the fully tiltable cabs and canopies on all our models.

All the mini diggers can be equipped with CASE SiteWatch and SiteConnect services, a range of after-sales services that support your experience with CASE Equipment. In order to be compliant with the progressively more stringent environmental requirements in various European countries and cities, the CASE D Series small diggers are compatible with bio hydraulic oil and lubricants, which is in fact offered as ex-factory option.

CASE D-Series mini diggers have been designed to match European customers' needs, covering all market segments.

Zero tail swing models will work with superb agility and manoeuvrability in confined spaces!
The widest offering of 2-piece-boom models in the market with 4 models from 2 tons all the way to 6 tons! Only CASE offers the digging and operating advantages of this type of boom in so many models!
A host of advanced technology features to boost your productivity:
- Electro-hydraulic controls across the full range,
- Hydraulic flow settings,
- Load-sensing electronic pumps,
- Flow-sharing control valves
- Up to 3 auxiliary circuits available with a vast variety of quick couplers and attachments: supreme versatility in all applications
Safety and operator comfort come first:
- Front and top level 2 protection grids,
- Outstanding all-around visibility,
- Excellent ergonomic layout of the controls
- Cab version starting from the 1.7 ton model!

Every CASE D-Series hydraulic excavator meets the increasingly stringent environmental requirements in various European countries and cities:

All models are compatible with bio hydraulic oil, engine oil and lubricants, which are offered as the ex-factory option.
2 fully electric models, the CX15EV and CX25EV, deliver zero- emissions operation with the same performance as their equivalent diesel models, the autonomy you need, and super fast recharging time!

Maintenance has never been as easy, with the fully tiltable cabs, canopies and roll bars on all models.

In addition, all models are available with CASE SiteConnect and SiteWatch telematics and connectivity-enabled after-sales services, which enhance our customers' experience of CASE equipment!

Zero tail-swing versions available across the full range deliver supreme manoeuvrability. When coupled with the 2-piece boom offering, it enables operators to work higher up and further than equivalent standard boom, digging deeper and closer to the machine -- ideal when in tight spaces. The 2-piece boom is available across the range, including on the 2-ton, 4-ton, 5-ton and 6-ton models -- industry leading.
A hydraulically expandable undercarriage available on models up to the CX22D ensures excellent manoeuvrability and stability. The track can be widened or shortened according to the requirements of the application and the conditions at the job site.
A dozer blade with foldable extension is available as standard on models featuring the extendable undercarriage
Smart design solutions for zero-tail swing include:
- Air conditioning outlet integrated into the rear top spoiler on 5-6 ton models
- Fuel tank integrated in the rear door access to the engine compartment on smaller models, which also provides excellent access for servicing and refuelling
Excellent boom swing angles and digging/operating reach make working in confined spaces easy.
A dual-speed transmission with automatic shift-down from 2nd to 1st gear when more traction is required and shift-up is dedicated to machine travel.

The configuration of the CASE D-Series mini digger is fully customizable, with specifications ranging from basic to premium, and can be tailored to meet the requirements of every customer and the different types of applications:

The machines can mount a vast range of attachments - from buckets to breakers, from grapple to mulchers – resulting in standout versatility, thanks to:
- A standard 1st auxiliary circuit on all models with:
Selectable single/double effect
Electro-proportional control (pedal control on CX17D and CX18D)
- An optional high flow provision with supplementary pump and direct drainage to oil tank
- 2nd and 3rd auxiliary circuit options
- 1st, 2nd and 3rd auxiliary circuits flow adjustment on the on-board computer with a multifunction display available on models from the CX42D to the CX65D
- A wide range of hydraulic and mechanical quick couplers
- An additional bolt-on counterweight for maximum stability and lifting capacity
The range includes an extensive, unique in the market, offering of 2-piece boom versions that deliver all the digging and operating reach advantages of this design on 4 models between 2-ton and 6-ton
The D-Series is one of the rare mini excavator ranges in the market offering the comfort of the cab version on smaller models with this choice being available from the CX17D upwards
The optional angle and tilt dozer blade and dozer float

The D-Series offers sustainable solutions that meet the increasingly stringent environmental requirements:

All models are compatible with bio hydraulic oil, engine oil and lubricants
The range offers 2 fully electric models, the CX15EV and CX25EV, which generate zero emissions with no compromise on performance compared to the equivalent diesel models – all this with the autonomy you need for your operation and very fast recharging time!

The D-Series stands out for its industry-leading offering with 2-piece boom across the range – from the 2-ton, 4-ton, 5-ton models, which are unique in the market, to 6-ton
- With the 2-piece boom you can reach 30% higher and 10% further than with a standard Mono-boom, and you can dig closer to the machine.
The machine's outstanding stability and hydraulic power enables a superior lifting capacity and digging performance.
The mini excavators stand out for their excellent working range and controllability
They bristle with advanced features:
- Electro-Hydraulic controls,
- Hydraulic and Operating Mode settings,
- Load Sensing Electronic pump,
- Flow sharing control valve
D-Series excavators deliver best-in-class engine power and torque together with optimal fuel usage
Compatible Attachments
Your CASE equipment is the platform - your attachments make the difference in how much work you win and how profitable your machine is.
MEDIA GALLERY
Experience CASE